Horace King: Suspension, Force, Support, & Reclamation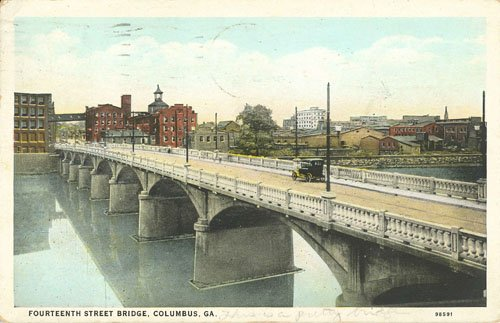 By Ben French, Curatorial Assistant
Ninety-seven years ago this month, the Hardaway Company completed construction on the Fourteenth Street Bridge, connecting uptown Columbus, Georgia, to downtown Phenix City, Alabama. The bridge utilizes multiple beams that span the area between abutments in order to relieve the structure of pressure. Years later, the bridge was renamed for local contributor to culture and architecture, Horace King. 
King & the Suspension of Expectation
Born in 1807 in Chesterfield District, South Carolina, King came to Columbus as a slave with his master John Godwin to construct a new bridge over the Chattahoochee in 1832. After working for Godwin's successful construction business and being treated as a valued employee, King was eventually given considerable influence over the operations of the business, supervising both construction and administrative endeavors. In 1832, King was handed the reigns to supervise the construction of Moore's Bridge, the first bridge to cross the lower Chattahoochee River in Whitesburg, Georgia.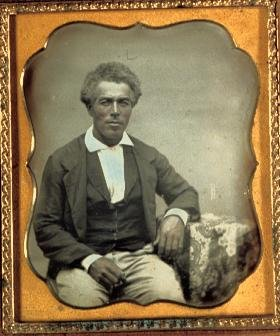 By 1846, King had been instrumental in the construction of numerous major bridges in Alabama, Georgia, and Mississippi; married Frances Thomas, a free African-American woman; and supervised the construction of the Russell County Courthouse in Alabama. King's hard work attracted a myriad of clients, but Godwin's business ultimately fell into debt. On February 3, 1846, in an effort to avoid seizure by his creditors, Godwin emancipated King, who continued to work for the construction company and eventually assumed its control in 1859 after Godwin's death. 
A Legacy of Force & Support
While most of Columbus's historical attention to King rightfully focuses on celebrating his accomplishments, it is also critical to recognize the political and racial tensions that informed his constructions and personal life. Most obvious, of course, is that, while treated favorably by Godwin, King still lived in the world as an enslaved individual until the age of 39. Even after his emancipation, King faced what one can imagine being difficult ethical and political decisions in his work. During the Civil War, King built projects usually for the Confederacy, including a building near Columbus for the navy. The Confederacy also forcibly ordered King to block several access points in order to keep Union forces from critical locations in Georgia and Alabama. 
In these examples, one can recognize not only King's architectural prowess, but also the complicated political, racial, and socioeconomic forces at play in his business endeavors. What must it have been like for a recently emancipated Black American to recognize his financial needs and to choose to complete projects for a military that was against the best interests of his own community? Or rather, how much of a choice was that really, given the power dynamics at play? To continue to be forced to act as a beam supporting the space between the abutments of oppression?
And perhaps most importantly, without projecting our own contemporary ideas onto the matter, how did Horace King feel about making said decisions, given his circumstances?
Reclamation in Contemporary Columbus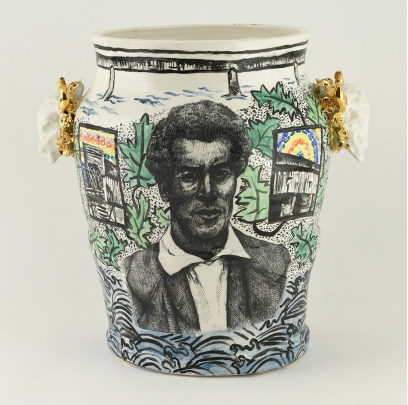 Today, marginalized artists hold these dialectical truths with equal attention, both celebrating the legacy of cultural leaders like King and providing critique on racial inequities. 
In 2017, the Columbus Museum commissioned Philadelphia-based artist Roberto Lugo to create what would become Century Vase with Alma Thomas and Horace King. The self-described ghetto potter, activist, spoken word poet, and educator uses street style and language to address social inequalities primarily pertaining to his Black, Indigneous, and Hispanic heritages. 
In this work, Lugo draws upon Karl H. Müller's Century Vase, an object of opulent grandeur created for the 100th anniversary of the signing of the Declaration of Independence. The vase is lavishly adorned with porcelain images of American nature and technology, as well as problematically romanticized scenes of US history. Among the North American Buffaloes that form the vessel's handles and idyllic painted depictions of early pastoral life lie scenes of settlers interacting with Indigenous peoples. Frozen in porcelain, these scenes reverberate now with dramatic irony as we, the contemporary viewers, know what lies ahead for the communities depicted. 
Lugo's vessel borrows from the tradition and energy of graffiti as it interrupts the Century Vase's problematic features and reclaims them for the Black community of the Chattahoochee Valley. In his version, Lugo replaces a porcelain George Washington with painted portraits of Horace King and fellow Columbus hero Alma Thomas. The presence of American lands persists from the original Century Vase in the form of dancing leaves and rippling river tides, but King and Thomas are depicted as the landscape's benefactors, not its usurpers. King's bridges decorate the lip of the vessel as well as its widest point, borrowing the colorful style of Thomas to help draw attention to their individual accomplishments. Buffalo heads remain as the vessel's handles, indicating King and Thomas's well-deserved place in the American canon of cultural leaders. 
The formal choice of creating a vessel is especially apt for Lugo. As one views this object, they fulfill the ultimate utilitarian purposes of both a bridge and a vessel: to cross over space, and to fill something with something else, respectively. History. Celebration. Conflict. Memory. Fullness. As our gaze traverses space to Lugo's creation and fills it with meaning, the vessel becomes a body in tune with and reflective of our own bodies (read: vessels). Similarly, July--a month that reflects on American identity--too becomes its own vessel, as do all of the months and years of the human experience, as they hold the triumphs, tribulations, and complicated in-betweens of our individual and collective lived experiences.