Stories of Impact: Amazing Grace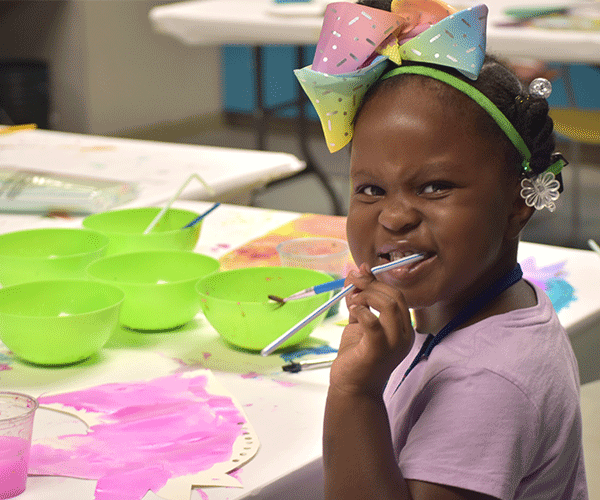 As we approach the holiday season and year's end, we want to share stories of impact from the communities we serve. Meet "Amazing" Grace.
Toddler's visits to the Museum aids in recovery from hearing loss
Just before Christmas 2018, Grace Bradley was diagnosed with viral meningitis. Grace, just three years old at the time, spent 21 days in the hospital. She ultimately became deaf in both ears after the virus essentially crushed her cochlea, the small sense organ that controls a person's hearing.
Her parents opted for a 9-hour bilateral cochlear implant surgery to restore her hearing, but it would not be an easy journey.
When Grace and her grandmother Rosaline Anderson first started coming to The Columbus Museum, Grace was completely deaf. The doctors told Grace's family that places with great acoustic sound and minimal background noise would be ideal for the little girl to visit.
"At this point, they started going to the Museum more and more each week," said Ahkelia Brunson, Grace's mother. "It was to the point that my mom and Grace knew all the security and front desk workers. She knows where all of the toys, puppets, and art supplies are in the kids' area [Transformations Family Gallery]."
Grace's grandmother continued to use trips to the Museum as "school" for Grace. Grace was reading lips to communicate and her grandmother would show her pictures to help her understand. In fact, Grace's first classroom setting after her hearing loss was during the Pre-K Amazing Animals Summer Camp at the Museum.  
Approaching the year anniversary of Grace's illness, Brunson is happy to report that Grace is doing "outstanding." Referred to as "amazing" Grace, Brunson said the little girl is doing what little girls do best. "She is running, jumping, playing and doing all the things that four-year-old girls do." 
The Columbus Museum remains admission-free and available to all children in our community thanks to the generous support of our donors. Would you like to help the Museum continue to make an impact?