CSU Students, Professor Help Solve Museum 'Mystery' with Science in New Exhibition
"Mystery Science Museum 3000" Opens July 25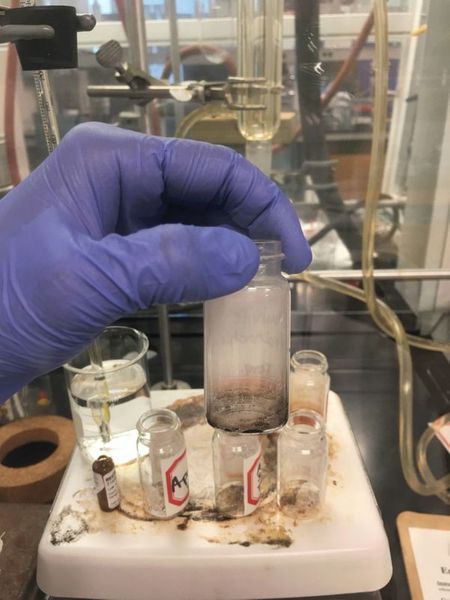 Columbus, GA (July 24, 2020) – A new exhibition at The Columbus Museum allowed Columbus State University research students and their professor to investigate a real mystery lurking in the Museum's permanent collection. 
Mystery Science Museum 3000 is the name of a new exhibition now on view at the Museum that features the work of a team from CSU – Chemistry Professor Kerri S. Taylor, Ph.D., chemistry student Shyrisse Ramos, and nursing student Jordan Spires. The show combines history, science, and art preservation in a community context, organizers say. 
After a visit to the Museum, Dr. Taylor asked curatorial staff if there was a project students could work on. Aimee Brooks, Museum Collections Manager, suggested that the team investigate potentially unstable substances and help identify best practices for preserving these chemicals, some more than 100 years old, found in doctor's kits in the Museum's collection. The kits were used by Chattahoochee Valley physicians in the early 20th century.
From there, the CSU team worked with Museum staff to co-organize the show, which was spearheaded by Curator of History & Exhibitions Manager Rebecca Bush.
Under Professor Taylor's guidance, the students conducted chemical analysis on medical vials and instruments used to treat various illnesses and emergency conditions on house calls, ranging from the common cold to syphilis to cardiac arrest. 
"Working with Dr. Taylor and her bright, dedicated students has been a fantastic experience for the Museum," said Rebecca Bush, Curator of History & Exhibitions Manager at the Museum. "Collaborating with CSU undergraduates as they conduct research has helped us learn more about our collection and has also provided fresh perspective on the stories we tell. We're so pleased to spotlight this team's outstanding work, and we laud Dr. Taylor for facilitating connections between the study of chemistry and its applications in the arts and humanities." 
The exhibition, which will be on view until January 2021, features the research and identification of chemical compositions used in the 20th century and today, explained Professor Taylor. 
"One major goal was to assist the Museum in preserving the integrity of these chemicals so that they can be maintained for years to come," Taylor added. "Understanding the makeup and how these chemicals react with the everyday conditions was important in the preservation process of these collections." 
About the CSU Team 
Shyrisse Ramos is a senior chemistry student and Louis Stokes Alliances for Minority Participation (LSAMP) scholar from the Columbus, GA area. Ramos is actively researching the chemical composition and restoration of Pasaquan. She hopes to attend graduate school to continue her studies in the field of chemistry and pursue a career as a medical examiner.  
Jordan Spires is a senior nursing student and servant leader scholar from Columbus, GA. Spires works as an aide in the Whole Tree Dentistry firm. She hopes to attend graduate school to continue her education to be a nurse anesthetist.  
Kerri Shelton Taylor, Ph.D., is an assistant professor of organic chemistry at Columbus State University and has been conducting research for five years. She obtained her Ph.D. in chemistry from The University of Akron and M.S. in chemistry from The University of Kentucky. Taylor has a broad knowledge and varied skill set in the field of synthetic medicinal chemistry and material science, which enables her to be a contributor to the scientific community. Her exposure to multiple areas of chemistry, particularly organic and material science, has led to strengthened synthetic skills and increased her chemical knowledge as an academic researcher. 
About The Columbus Museum Team
Rebecca Bush has been Curator of History & Exhibitions Manager at The Columbus Museum since 2011. She holds an M.A. in public history from the University of South Carolina; Graduate Certificate in Museum Management from the University of South Carolina; and B.A. in history, from Kansas State University. Bush's award-winning work at the Museum includes the recent Making Conversation with Warren Williams Homes project and Fort Benning at 100, which commemorated the 100th anniversary of the post.
Aimee Brooks has been Collections Manager at The Columbus Museum since 1999. She oversees the preservation and storage of more than 10,000 objects of art and history in the Museum's permanent collection. Brooks has an M.A. from Texas Tech University in museum science and a B.A. from the University of Virginia in archaeology.
Founded in 1953, The Columbus Museum is one of the largest museums in the Southeast and is unique for its dual concentration on American art and regional history, displayed in its permanent collection, temporary exhibitions, and educational programs. The Museum strives to be a cultural leader, distinguishing itself through an approach that engages visitors, stimulates creativity, inspires critical thinking, sparks conversations, and brings art and history to life. 
Press Contact
Bridgette Russell
The Columbus Museum
Director of Marketing & Public Relations
706.748.2562 ext. 5410
brussell@columbusmuseum.com