Stories of Impact: A Bloomin' History
Gardener, Docent, Volunteer wants to see history bloom in Bradley Olmsted Garden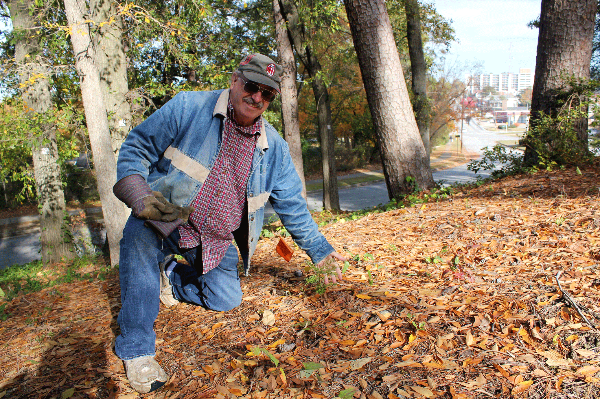 The Bradley Olmsted Garden at The Columbus Museum has a story to tell.
The History
The 13 acres of woodland gardens behind the Museum date back to 1912 when lawyer Brick S. Miller built a Mediterranean Revival home on Wynn's Hill and hired a young landscape architect in Augusta named William Marquis to create a personal garden along the hillside.
Marquis' design had been started but not completed when industrialist W.C. Bradley acquired the home in 1925. Wanting a larger garden where he could entertain family and friends, Bradley reached out to Marquis, who by then had moved to the Olmsted Brothers firm of Massachusetts, to adapt and finish his design. The resulting landscape is widely recognized as the most substantial and significant Olmsted residential project in Georgia.
The Present
Today, part-time gardener Bill Consoletti is proud to be responsible for the garden's care and the history found on its grounds. Consoletti was a docent at the Museum when a 2016 tour with Curator of History Rebecca Bush introduced him to the magic of the garden.
"I liked what I saw," Consoletti said, describing how intrigued he was by the Japanese yews that were part of the tour.
He had been a docent since 2013 and his enthusiasm for the Museum's permanent collection spread to the outdoors. Consoletti has a background in forestry and has always had a love for gardening. He volunteered in the garden for several months in 2016 and 2017 before he was hired as a part-time gardener in summer 2017.
He is most proud of the work he has done over the years in the garden's ravine, with the help of some crew and volunteers. He would love to see some of the garden's water sources restored, which used to run down the steep hills at various points to create several handsome waterfalls. Consoletti also wants to continue cleaning up the garden, planting more Japanese yews, and caring for the "many, many" azaleas that bloom magnificently in the spring.
When visitors come to the Museum to see the garden, Consoletti wants them to think of the rich history it represents.
"I want more people out there to experience the garden, like an object," he said. "I want them to see it – to encourage them to draw, to write, to understand, and to learn."
The Columbus Museum remains ADMISSION-FREE thanks to the generosity of members and supporters. We want to continue to be a place where visitors can enjoy our collection of art and history both inside and outside of the Museum's walls. Would you like to help the Museum continue to make an impact?