Stories of Impact: When Art Reunites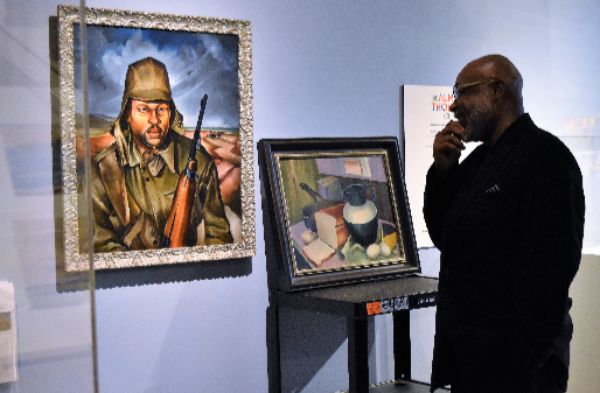 Man Sheds Light on Uncle's "Incredible" Talent, Legacy
The painting was something of a mystery when The Columbus Museum acquired it in early 2018.
Rearguard (1950), a handsome oil on canvas, depicts an African-American soldier in uniform but not much more was known about the subject of the painting. Only basic facts were available about the artist, Robert Neal, who was born in Atlanta in 1916 and died in Dayton, Ohio in 1987.
But a single email would change that.
On June 3, 2019, Calvin Neal wrote:
"I just came across an article highlighting a portrait, 'Rearguard,' by my uncle, Robert Lee Neal. I was wondering if you had any other of his work as I plan to come down from Atlanta to see this portrait that I had not seen in years."
Director of Curatorial Affairs and Curator of American Art Jonathan Frederick Walz, Ph.D., was ecstatic to hear from Calvin Neal. The two met, along with other staff members, at the Museum a few weeks later for Walz to learn more about the artist and for Calvin Neal to see his uncle's work again.
Calvin Neal shared that the subject of Rearguard was his own father, Calvin Neal Sr. He also told Walz that Robert Neal was called "Bob" by his family and often painted portraits using the elder Calvin Neal's face. Robert Neal was not a professional painter and had a day job. But he would give art lessons and trade artwork for favors such as rides to work, Calvin Neal recalled. He remembered being in awe of his uncle's talent even as a boy.
Between anecdotes about his uncle Bob, Calvin Neal was not only able to see Rearguard but also view a fruit still life, currently in a private collection, that he remembered his uncle painting. He was overwhelmed with emotion when he saw it. The Neal family plans to stay in touch with the Museum to share more information about Robert Neal and his work.
Calling his experience at the Museum "one of the most amazing days of my life," Calvin Neal said his uncle's work on view means so much to him and his family because it allows the artist's legacy to live on.
"He deserves to be recognized for the incredible talent he was."
The Columbus Museum fulfills its mission of bringing art and history to life through our generous donors and supporters. Will you help us continue to make an impact?