The Birds are Here: Halloween at The Columbus Museum
By Liliana Harrell
October brings vampire bites, tricks and treats, and witches soaring on their brooms; werewolf howls, goblins on the prowl, and boos that cause fear to loom. Many, including myself, find this macabre month as their time to emerge from the shadows, and notice that their "strange and unusual" tastes are suddenly in vogue. While we might feel we live in solitude throughout the rest of the year, we gather in groups and thrive during spooky events such as Halloween parades and vampire balls. As a pioneer in the development of horror and the grotesque in American literature, Edgar Allan Poe and his raven serve as inspiration for many greeting cards and Gothic décor. However, there is another black bird that conjures fear, and not just throughout the Addams' and Munsters' favorite holiday season: the crow.
As with the Lydia Deetz-es of the world, many crow are solitary creatures. However, they often live in large groups as well, which is called a murder. Oooh, can you feel the chills? Crows are highly important in mythology, as well as fables and native cultures. Identified as clever tricksters, in some cultures, they are symbols of good luck, and in others, they are bearers of bad omens. Are you reading this in the voice of Vincent Price yet?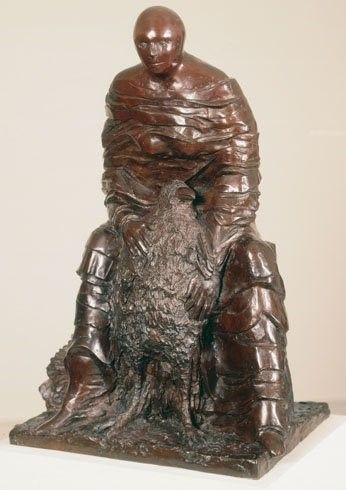 As part of The Columbus Museum's permanent collection, Leonard Baskin's interest in Greek history, philosophy, and mythology can be seen in Sibyl with Crows. This piece was inspired by the Sibyl, the prophetic female from Greek mythology, and served as a muse for many of Baskin's works. The sculpture shows a woman sitting on a plinth, a crow between her legs, and a fledging at her right foot. The dark patina of the bronze imparts a feeling of foreboding and mystery.
Also displayed in the Museum's permanent collection is Standing Crow, below. Eric Draven would be quite impressed with our acquisitions, no?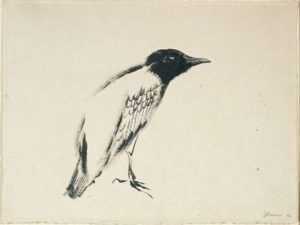 October, with its time of spooky social celebrations, also sets the mood for fright nights in the home: AKA binge-watching horror films. While the horror genre has drastically changed since its inception, reverting back to the classics is a sure way to get your heart and mind racing. With their ability to scare you right out of your pants solely based on their atmosphere, dialogue, and score, it is no wonder television channels other than TCM schedule them in their horrorday programming.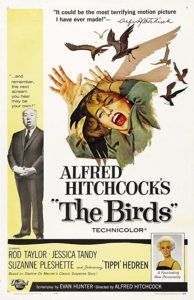 Alfred Hitchcock, inventor of modern suspense and horror, invites us into his world of psychological terror and places us in a mental prison with his scare tactics and ambiguity. With the 1963 release of The Birds, Hitchcock successfully captured the attention of audiences with humankind versus nature, creating the absurd notion of incalculable creatures, previously viewed as harmless, who suddenly turn murderously aggressive toward humans. Like the crows in the film, flocking tighter and tighter, The Birds still continues to fascinate viewers with its ambiguous ending, in which the attacks are never explained.
Here at The Columbus Museum, we wish for you to press pause in your spooktacular marathon-viewing and RSVP "yes" to the YAPs Halloween Highball on the 18th of October at 7:00 p.m. and let the spirits guide you to Ansel Adams: The Masterworks.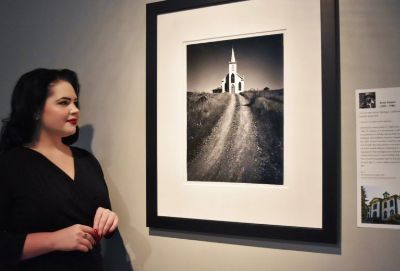 There, you will find an image of Saint Teresa of Avila Roman Catholic Church taken from the perspective of the famous photographer, Ansel Adams. Predominantly known for his landscapes, Adams also photographed architecture and people. His image, Church and Road, Bodega, California, captures the place of worship which, restored in 1955, appears in the background of several scenes in The Birds. Saint Teresa of Avila is located next door to the Potter School, also playing a prominent role in the film. It is said by locals that Hitchcock attended church services during the filming of his masterpiece.
Nearly twenty years before Alfred Hitchcock made The Birds, an article in the San Antonio Light titled "Peace Plans Pour Into Conference," quoted Hitchcock upon asking him what might happen if there was another world war: "[Hitchcock] believes that birds will inherit the earth if there is another war. He told us recently: 'Crows, probably. You can see that they're working that way already. They hold courts, have a fair language and a rudimentary banking system. I like their chances of taking over.'"