Awkward Family Photos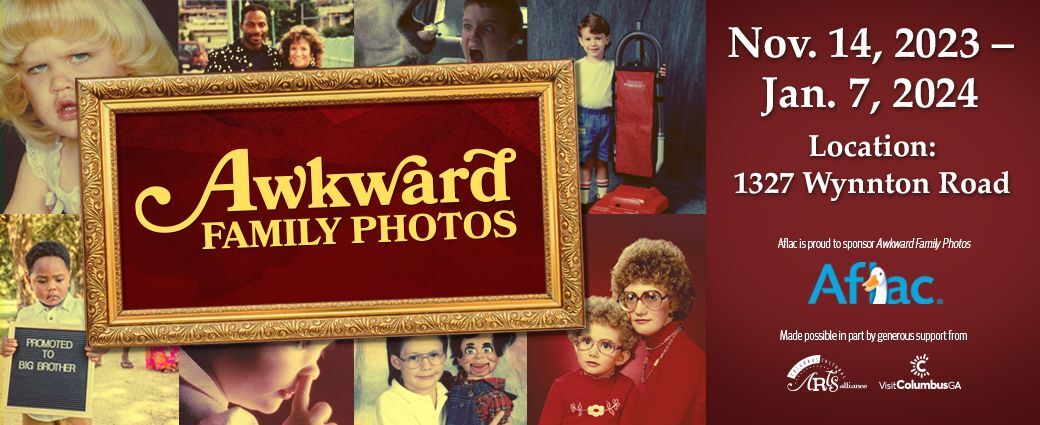 NOVEMBER 14, 2023 - JANUARY 7, 2024 | 1327 Wynnton Road
When it comes to awkward moments, every family has lived through their fair share. The upcoming exhibition Awkward Family Photos pokes fun at and celebrates the perfectly imperfect moments that come with being a family while offering a chance for people to take comfort in the fact that theirs is not alone. The exhibition includes more than 200 classic photos, framed in vintage, era-appropriate frames, alongside hilarious "behind the awkwardness" stories from the actual families. Created by the friends behind AwkwardFamilyPhotos.com, the exhibition has been traveling since 2012 and is making its Georgia debut at The Columbus Museum's temporary headquarters.
---
Exhibition Location:
TCM Temporary Headquarters
1327 Wynnton Road, Columbus, GA
Hours:
Tuesday, Wednesday, Friday, Saturday - 10 A.M. to 5 P.M.
Thursday - 10 A.M. to 8 P.M.
Sunday - 1 P.M. to 5 P.M.
Closed Monday
Free and open to the public!
---
Passport Program:
The Columbus Museum is on tour throughout the Chattahoochee Valley! As the Museum is under construction, visit tour stops and fill your passport with unique stickers along the way. At the end of the tour, participants can bring their completed passports for prizes, a discount in our Museum shop, and a special sneak peek of the reimagined Columbus Museum! Pick up your passport at the Museum - 1327 Wynnton Rd., Columbus, GA. For exhibition stickers, see the gallery attendant onsite.