Flora & Fauna: Drawings from The Columbus Museum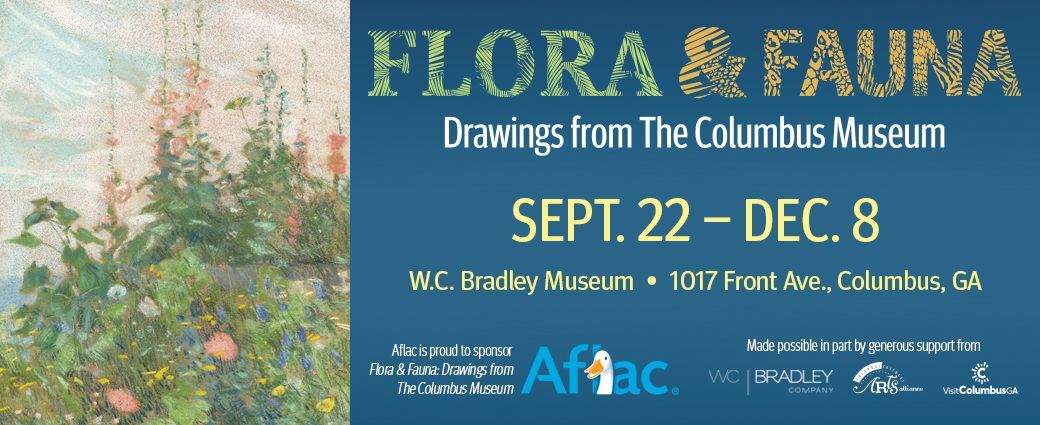 SEPTEMBER 22 - DECEMBER 8, 2023 | W.C. Bradley Museum
Flora & Fauna: Drawings from The Columbus Museum showcases the Museum's outstanding collection of American drawings and assembles an engaging group of images depicting a variety of animals and plants. From ancient eras to modern times, nature has continually inspired artists and makers to create pictures and has served as a source of essential nutrients, brute power, welcome companionship, and spiritual wonderment. Ranging from scientific illustration to avant-garde treatments of subjects, Flora & Fauna captures the gamut of human interactions with the natural world. The project highlights a wide variety of markmaking media, including graphite, colored pencil, charcoal, ink, and watercolor, and provides an opportunity to see works on paper not often viewed due to light sensitivity. 
---
Exhibition Location:
W.C. Bradley Museum
1017 Front Avenue, Columbus, GA
Hours:
Monday to Friday - 9 A.M. to 5 P.M.
Closed Saturday & Sunday
Free and open to the public!
---
Passport Program:
The Columbus Museum is on tour throughout the Chattahoochee Valley! As the Museum is under construction, visit tour stops and fill your passport with unique stickers along the way. At the end of the tour, participants can bring their completed passports for prizes, a discount in our Museum shop, and a special sneak peek of the reimagined Columbus Museum! Pick up your passport at the Museum - 1327 Wynnton Rd., Columbus, GA. For exhibition stickers, see the gallery attendant onsite.