Fabric of Our Community Celebrates Community Ties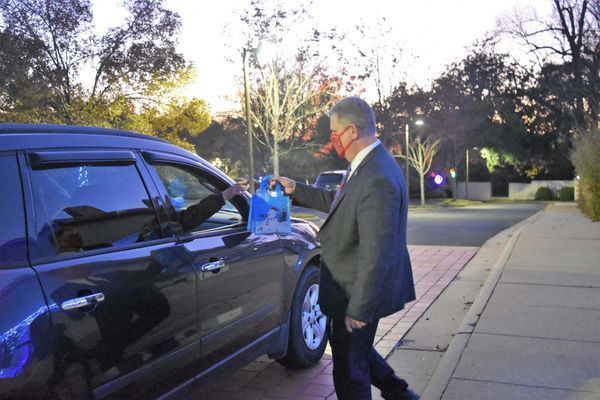 The Fabric of Our Community – what an apt way to describe the spirit of Columbus in the past 12 months.
Last March when the Museum doors closed, The Columbus Museum went to work to bring art and history into the homes across the Southeast and beyond. From art backpacks to online workshops to collaborating with teachers on virtual lesson plans, we made sure our commitment to our mission stayed strong.
Supporting this commitment takes all of us, and so we want to invite you to be a Patron for our April 22, 2021, celebration of "The Fabric of Our Community." The Chattahoochee Valley has a long history related to cotton and textile mills—and our new exhibition Paolo Arao: In Dialogue with Drawing, currently on view, echoes this history.
In this exhibition, contemporary artist Paolo Arao uses fabric, clothing, and canvas to create works that connect the Museum's collection of historical drawings to today, taking inspiration from our community's art, history, gardens, and people.
"The Fabric of Our Community" will be our premier spring fundraising event, and we have planned a distinctive experience for the evening. As a Patron, you will be invited to pick up a specially prepared gift bag to include wine and a treat for two at the Museum's portico entrance between 4-6 pm on April 22, from the comfort of your car. At home that evening, you will have a front-row seat to a virtual celebration of the exhibition and its message. A memento of the exhibition will be included with your gift bag to show our gratitude for your support of The Columbus Museum. We also will recognize all Patrons at the $1,000 level and above through our materials, website, and onsite at the Museum. All Patrons will be entered into a raffle to win two beautiful pieces of original art by the celebrated artist, Paolo Arao, or a weekend stay and dinner at the brand new Hotel Indigo in downtown Columbus.
We will be honored to have you join us as Patrons for this special evening, and we thank you for being a vital part of The Fabric of Our Community.
Announcing this year's raffle items!
Sewn paintings
Two beautiful works by Paolo Arao, the Brooklyn-based artist whose most recent exploration in the studio combines the traditions of textiles and painting, are featured in this amazing raffle! Arao's work is rooted in modernist geometric abstraction. He creates his current work by machine stitching second-hand clothing, hand-dyed fabric, and weathered canvas together into unique objects that straddle the fertile area between 2D and 3D.  The current exhibition In Dialogue with Drawing marks the debut of Arao and his work in Georgia.
A Getaway Close to Home
Experience Columbus' newest hotel right on the banks of the Chattahoochee River. Hotel Indigo at Riverfront Place opened in February 2021 as a premier destination for tourists and locals and celebrates the spirit of creativity and innovation that spawned the historic W.C. Bradley family.  The raffle prize includes a gift certificate for an overnight standard guest room and a $100 food and beverage credit!