The Columbus Museum Safety Precautions
We are so excited to welcome you to The Columbus Museum. 
We have implemented new policies and procedures with the health and safety of Museum staff and guests in mind, and we want you to know what to expect when you visit. 
What to Expect at the Museum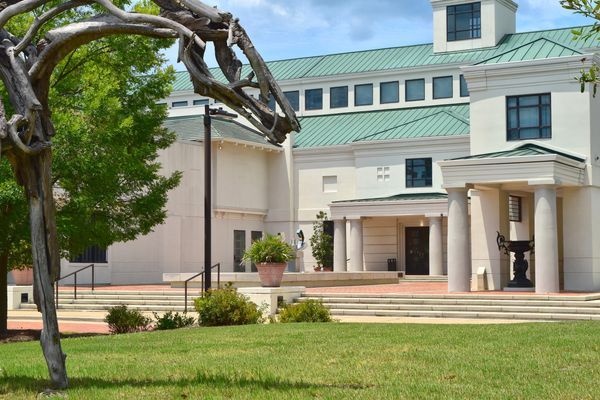 New Health & Safety Procedures
Please do not enter the Museum if you have:
a fever
a cough
chills
shortness of breath or difficulty breathing
muscle pain
a sore throat
new loss of taste or smell
been in contact with someone known to have COVID-19 within the past 14 days
Thank you for helping to stop the spread of infection!
Face coverings are required
Face coverings are required for staff and visitors in accordance with the Muscogee County School District policy, which was established with guidance from the American Academy of Pediatrics. Face coverings are required for all those over the age of 2. Face coverings are available for those who do not have one upon entry by request and patterned cloth masks are for sale available in the Museum shop.
Please limit your party and observe social distancing
Please limit your party to 10 or less when you visit the Museum.  Please use social distancing and stay six feet away from visitors who are not in your party. Signage in some of our smaller rooms and galleries will give occupancy limits that will be enforced by our gallery attendants. 
Hand sanitizer stations available throughout the building
Hand sanitizer stations are available throughout the Museum for your convenience and frequent handwashing is encouraged. We have increased the frequency of the cleaning of high-touch surface areas such as handrails, doorknobs, faucets, elevator buttons, etc.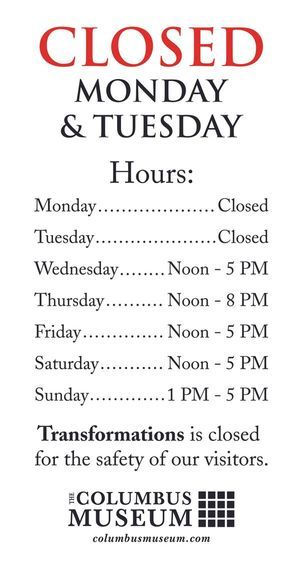 Museum has temporarily reduced hours.
Please take note of new hours the Museum will be open to the public.  
Monday & Tuesday: Closed
Wednesday:  Noon - 5 p.m.
Thursday: Noon - 8 p.m.
Friday: Noon - 5 p.m.
Saturday: Noon - 5 p.m.
Sunday:  1 p.m. - 5 p.m.
The Transformations Interactive Family Gallery remains closed to the public.
Because the Transformations Family Gallery is a high-touch, enclosed area, the Museum has made the decision to keep the area closed to visitors. We still encourage families to visit the Museum and activity booklets available upon request at the front desk.
The Bradley Olmsted Garden remains open 
Is there a better place to socially distance than the beautiful, historic Bradley Olmsted Garden? Please enjoy the blooms and foliage of the 13-acre garden, which is still open to the public. 
Questions? Please email marketing@columbusmuseum.com.