Saya Woolfalk: Augmented Visionary Reality Outpost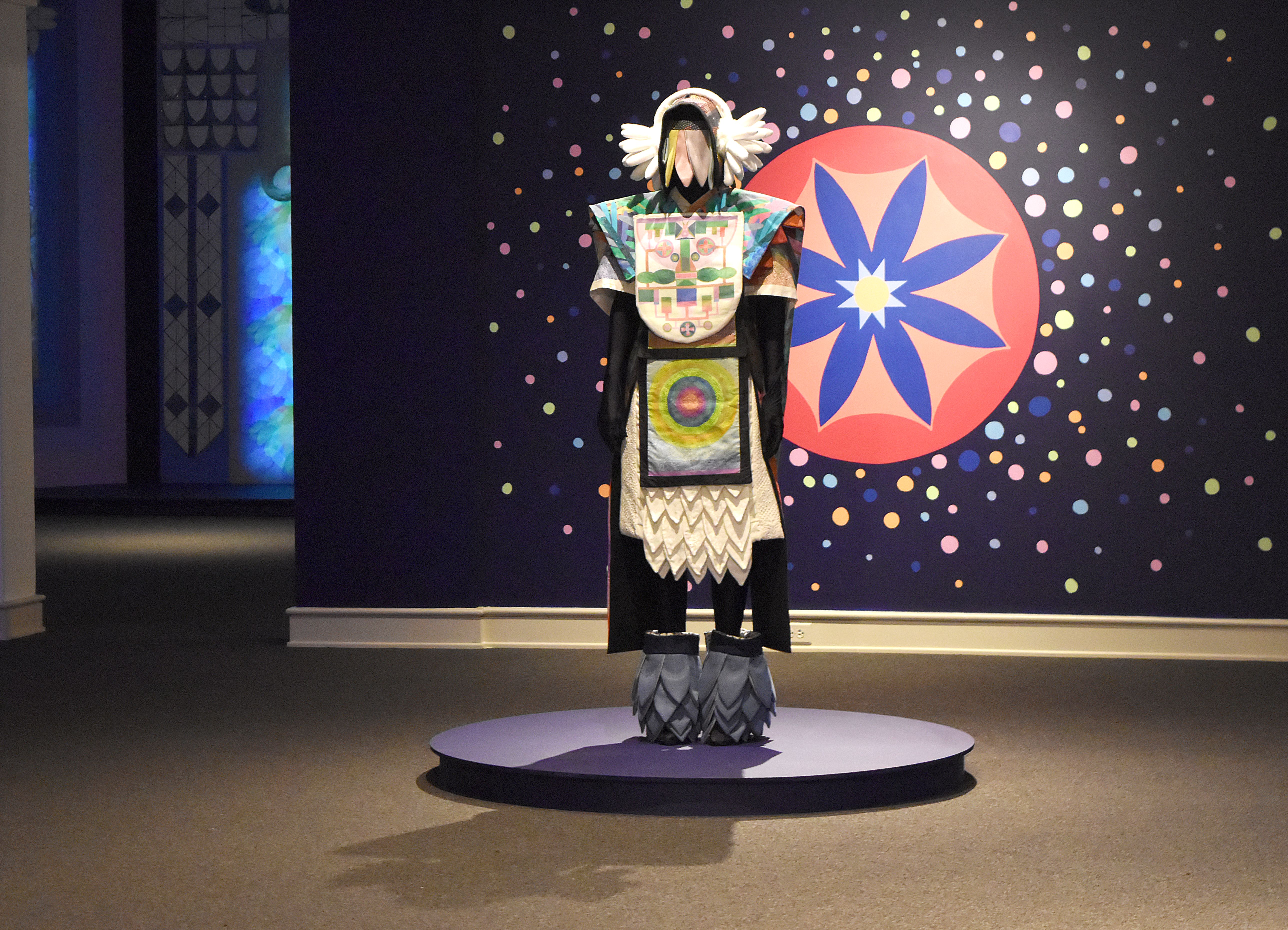 Oct. 18, 2019 - Feb. 2, 2020
Nordhausen/Callaway Galleries
Since 2006, Saya Woolfalk has been imagining and creating an alternative universe that combines science fiction, ceremonial ritual, technology, identity, and art. This other universe exists in the future and past simultaneously. Overall, Woolfalk's ongoing project considers identities and influences across cultures, especially in relation to our contemporary world. Each museum that hosts one of the artist's fantastical, immersive, multi-sensory installations helps continue and expand the story of this fictional world.
Woolfalk's alternative universe is inhabited by beings from the future called the No Placeans. In the artist's narrative, a group of modern-day women in Upstate New York stumbled on a set of No Placean bones covered in fungi. Over time, as the women were exposed to the bones, they experienced psychedelic visions, which in turn caused a genetic alteration that fused the women's human DNA with that of plants. With this change in their DNA, the women renamed themselves the Empathics and set out to make this hybrid metamorphosis possible for anyone. They founded the Institute of Empathy to excavate the original archaeological site and then formed a corporation called ChimaTEK to sell this transformational process to consumers.
The environment in the Nordhausen Gallery tells the story of the ChimaCloud, the Empathics' newest groundbreaking technology. This self-replicating digital universe is populated by fragments, ideas, and forms uploaded to the ChimaCloud by people from around the world. Woolfalk has reimagined the Callaway Gallery as a ChimaTEK day spa. It features three stations that foster mindfulness, guided meditation, and self-actualization for visitors.
By envisioning and then creating fully realized aspects of a fictional universe, Woolfalk intends to evoke not only wonder but also a feeling of disorientation. She hopes this combination of responses will lead to a sense of curiosity, openness, and possibility that visitors will then take with them into their everyday lives.
The original iteration of this project, Visionary Reality Outpost: Saya Woolfalk was organized by the John Michael Kohler Arts Center in Sheboygan, Wisconsin. Elements of Saya Woolfalk: Expedition to the ChimaCloud, recently on view at the Nelson-Atkins Museum of Art, are also featured here. The exhibition at The Columbus Museum has been made possible in part by the Columbus Convention and Visitors Bureau and the Columbus Cultural Arts Alliance.
INSTALLATION PHOTOS