About The Columbus Museum
Mission

The Columbus Museum brings American art and history to life for the communities of the Chattahoochee Valley.

Vision

The Columbus Museum will be a cultural leader in the Southeast, distinguishing itself through an educational approach that engages visitors, stimulates creativity, inspires critical thinking, sparks conversations, and brings art and history to life.

View The Columbus Museum's 2020-2023 Strategic Plan.

The Columbus Museum has a responsibility to be a museum for everyone. Click the hyperlinked text above to read the Museum's DEAI policy. For more information about the Museum's DEAI plan, please contact Lacey Yeend, Assistant to the Director, at lyeend[at]columbusmuseum.com or at 706-748-2562 ext. 4320.
History of the Columbus Museum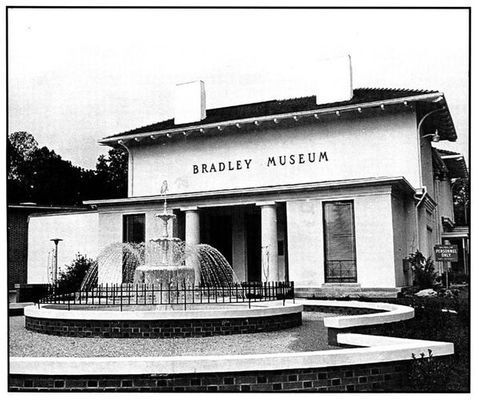 Founded in 1953, The Columbus Museum is one of the largest museums in the Southeast and is unique for its dual concentration on American art and regional history, displayed in its permanent collection, temporary exhibitions, and educational programs.
Located in the hometown of Ma Rainey, Carson McCullers, Alma Thomas, and Amy Sherald, the museum maintains and increases relevance through the quality of its interpretation of objects and by targeting partnerships that extend its ability to serve the community. Admission is always free.
When noted Columbus industrialist W.C. Bradley died in 1947, his family donated his 13-acre estate to the city of Columbus to be used as a center of culture and education. Located in the heart of the Wynnton neighborhood in a 1912 Mediterranean Revival house, the Columbus Museum of Arts and Crafts opened its doors to the public on March 29, 1953.
Today, The Columbus Museum's dedicated board and staff continue its legacy as a cultural center. In partnership with the Muscogee County School District, the Museum offers a varied exhibition schedule, specially designed tours and educator workshops, and an array of free activities and events for intergenerational engagement.
Board of Trustees
Officers

President - Chris Henson

Vice President - James E. Hall

Corresponding Secretary - Gwendolyn H. Ruff

Director/Recording Secretary - Marianne Richter

Treasurer - Tyler A. Townsend

Immediate Past President - D. Steven Sharp

Life Trustees

Philip L. Brewer

Elizabeth T. Corn

Evelyn T. Crowley

Judye S. Harris

F. Clason Kyle

Betsy T. Leebern

Jerry B. Newman

Rebecca K. Yarbrough

Honorary Trustees

James H. Blanchard

Representative Calvin Smyre

J. Barrington Vaught
Annual Report
Click the links below to view our Annual Fiscal Year Reports.