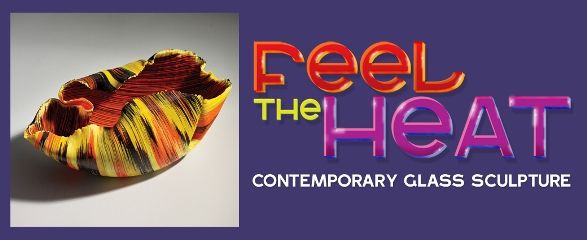 Feel the Heat: Contemporary Glass Sculpture
November 24, 2013 - March 23, 2014
Since ancient times, glass has been used to create functional and beautiful objects. During the industrial revolution, glass items were made by teams of factory workers who used molten glass that was heated in huge furnaces. During the 1950s, ceramics and other crafts began to grow in popularity and importance, and American artists who were interested in glass looked in new directions, outside of industrial production. With the development of smaller furnaces and glass formulas with lower melting temperatures, in the late 1960s the studio glass movement was begun. The movement emphasizes the artist as designer and maker and the focus on making of one-of-a-kind objects, and American Studio Glass has developed into one of the most popular forms of contemporary art.
Feel the Heat: Contemporary Glass Sculpture will highlight the different ways in which glass is used as a medium for contemporary art. Assembled from museum and private collections throughout the southeast, Feel the Heat will feature over 60 works by masters of studio glass, including Sonja Blomdahl, Richard Jolley, Jon Kuhn, Harvey Littleton, Dante Marioni, Benjamin Moore, William Morris, Stephen Rolfe Powell, Paul Stankard, Catherine "Cappy" Thompson, Einar and Jamex de la Torre, and Toots Zynsky. The exhibition will explore a variety of techniques used to create glass objects, including blowing, casting, acid-etching, hot-working, slumping, incalmo, and lampworking. With limitless possibilities in form and color, and possessing unique optical qualities, glass has an undeniable "wow" factor.
This exhibition is made possible by the generous funding from Aflac, Art Alliance for Contemporary Glass, Consolidated Columbus Government and Columbus Convention & Visitors Bureau and Maxine R. Schiffman.
Nubian Giraffe Situla

William Morris, 2000
Blown glass, steel stand
Collection of Thornton and Sue Jordan, Columbus, Georgia

 Copious Whispering Snorter

Stephen Rolfe Powell, 2007
Glass
Promised gift to the Columbus Museum from Thornwill Farm, Harris County, Ga.

New Blue Trio with Red

Dante Marioni, 2001
Free-blown glass
Montgomery Museum of Fine Arts, Montgomery, Alabama

Yellow Red/Red Yellow

Sonja Blomdahl, 2005
Blown glass
Courtesy of Traver Gallery, Seattle, WA
Third Floor Galleries