Nancy Friedemann-Sánchez: Casta Paintings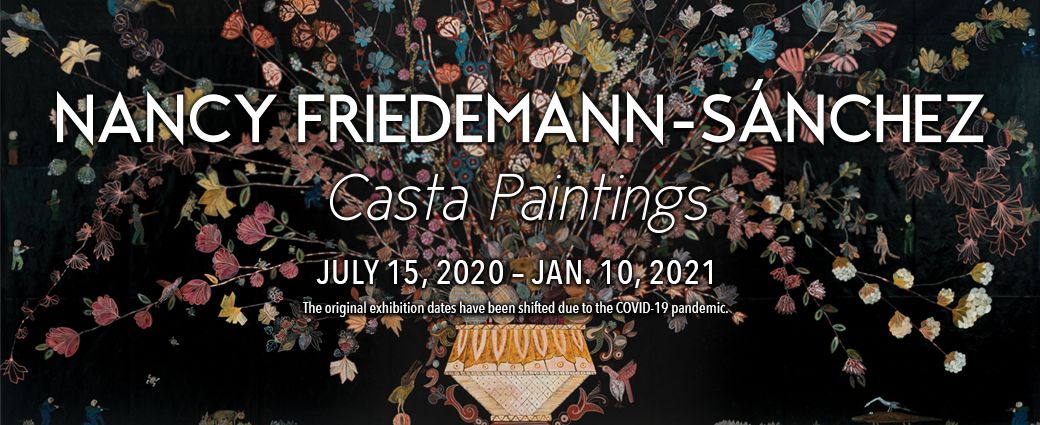 JULY 1 - JANUARY 10, 2021
PASSAILAIGUE GALLERY
The powerful large-scale paintings and drawings of Nancy Friedemann-Sánchez allude to minimalism and the pattern and decoration movement while using the aesthetics of Spanish Moorish tiles found on buildings in her native Colombia. The artist also often incorporates lace patterns from colonial portraits, as well as colonial botanical drawings, to explore notions of identity, memory, hybridity, and appropriation.
Friedemann-Sánchez describes her most recent body of work, called Casta Paintings, as part of a "multi-narrative novel about memory, migration, and the pursuit of the American dream." The series title is taken from a colonial 18th-century painting tradition used to create a system of hierarchical classifications of racial stereotypes that assigned specific names to mixed-race individuals. The goals of such paintings were to warn against racial mixing. Terms such as mestizo, castizo, and mulatto emerged out of this problematic practice.
From this complicated heritage, Friedemann-Sánchez borrows the cultural framework and naming conventions of 18th-century casta paintings to comment on current climates regarding how ranking and vilification continue to exist especially in areas of race, migration, marginalization, and movement. In each painting, a figure, named after a casta classification, is placed in the stance held while passing through TSA active millimeter-wave body scanners at airports. For Friedemann-Sánchez, these machines, and the extended Homeland Security and border politics they represent, are a current-day form of categorization, one that has been called into question for singling out people of color. Additionally, each painting is adorned with a mask—meant to represent a characterization of the mixed-race classifications—and then topped with a Spanish comb.
Nancy Friedemann-Sánchez studied at the Universidad de los Andes in Bogota, Colombia and earned a B.F.A. from Otis Art Institute in Los Angeles and an M.F.A. from New York University in 1997. She splits her time between Lincoln, Nebraska, and New York. The artist's Casta paintings received the 2019 Catherine Doctorow Prize for Contemporary Painting, a prestigious unrestricted cash prize awarded every two years to an innovative painter practicing in the United States. Casta Paintings was curated by Jared Steffensen, Curator of Exhibitions at the Utah Museum of Contemporary Art, which organized the project's tour. The exhibition marks the debut of Nancy Friedemann-Sánchez's work in the Chattahoochee Valley
This exhibition is generously sponsored by Aflac.