Quilts from the Collection of Paul M. Goggans, Part 2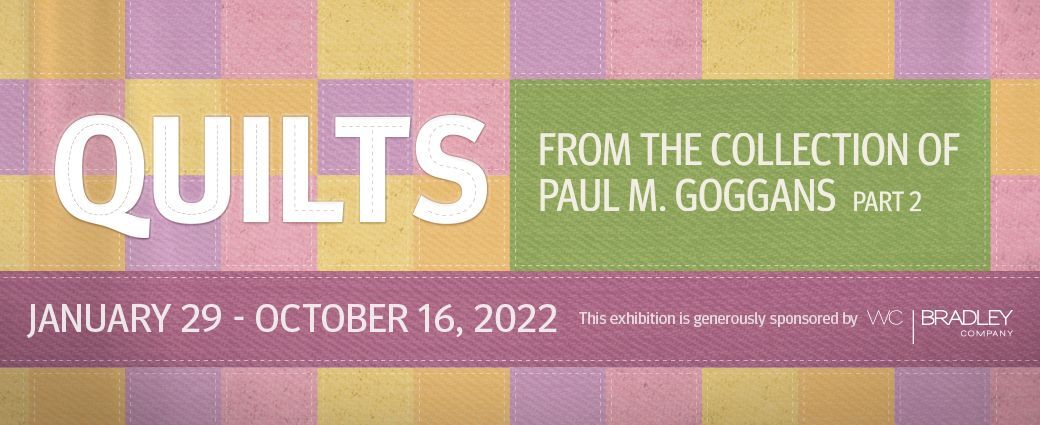 February 5 - October 16, 2022 | Galleria Cases
This exhibition, the second of two planned installations, features quilts newly acquired from Paul M. Goggans. Goggans' family lived in the Chattahoochee Valley for more than 150 years, and his maternal grandmother, great-grandmother, and great-great-aunt produced dozens of quilts that the family lovingly preserved over the years. The quilts reflect popular patterns, colors, and fabrics of the 19th and early 20th centuries and present excellent aesthetic variety with strong levels of craftsmanship. Spanning nearly 70 years, these beautiful objects also reflect their everyday use as household goods.
This installation spotlights the work of two generations of quilters; sisters-in-law Isabella (Bell) Phillips Boyd (1862-1953), who lived in the Upatoi area of Muscogee County, and Beatrice Virginia Elizabeth Jenkins Phillips (1864-1942), who grew up in Troup County and spent her adult life near Warm Springs in Meriwether County, as well as Phillips' daughter Marye Elizabeth Phillips Proctor (1893-1964). Widowed less than a year after her wedding, Proctor lived and worked in Warm Springs as a home demonstration agent, teaching women and girls skills such as canning food and arranging flowers, while raising her daughter. Proctor followed in the quilting footsteps of her mother and aunt, using pastel colors common in the 1930's and 1940's.
This exhibition is generously sponsored by the W.C. Bradley Company.
Marye Elizabeth Phillips Proctor

Double Wedding Ring quilt

Marye Elizabeth Phillips Proctor

Double Wedding Ring quilt

1930, cotton, Gift of Dr. Paul

M. Goggans The Columbus

Museum G.2019.78.14

Beatrice Virginia Elizabeth Jenkins

Pinwheel variation quilt

Beatrice Virginia Elizabeth Jenkins

Pinwheel variation quilt

1900s early, cotton, Gift of Dr. Paul

M. Goggans The Columbus

Musuem G.2019.78.9