Journey Toward Justice: The Civil Rights Movement in the Chattahoochee Valley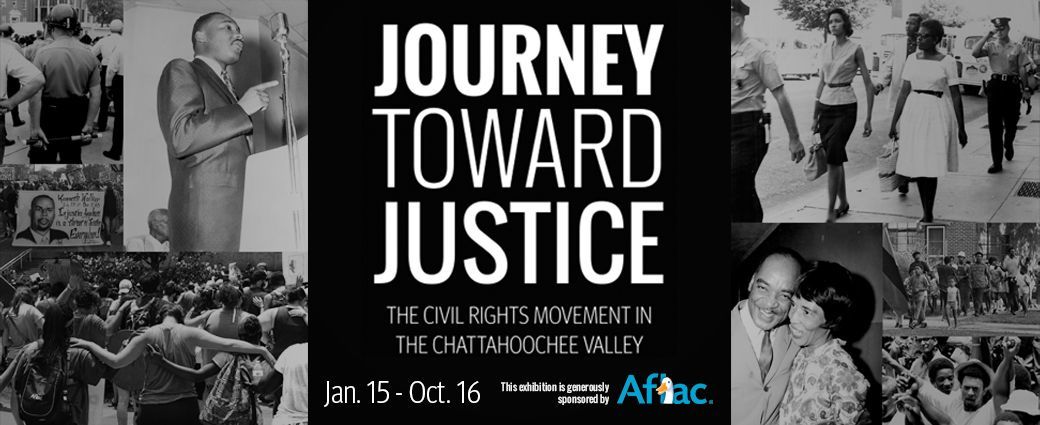 JANUARY 15 - OCTOBER 16, 2022
Cities such as Atlanta, Albany, Montgomery, and Birmingham often dominate discussions of the Civil Rights Movement in the 1960s. However, the Chattahoochee Valley has been the site of regular cycles of civil rights activism, allyship, and backlash throughout the past century. Advances in civil rights that proved significant at the national and state levels happened from the 1940s through the 1970s, and vibrant activism continues in the community today.
Journey Toward Justice spotlights the Civil Rights Movement in the Columbus area. Themes and topics include the beginnings of a southern freedom movement and the effects of Jim Crow segregation; the role of Black institutions as a source of community pride and a breeding ground for activists; the influence of Fort Benning; direct public actions that led to the desegregation of public and private spaces; the cycle of generational violence and intimidation that activists faced; and continued civil rights activism in the 21st century. These stories will be told with more than 160 artifacts, documents, and images from nearly a dozen private lenders, as well as the collections of the Columbus Museum and special collections libraries at Columbus State University, the University of Georgia, and Emory University. The exhibition will also feature archival footage of protests and interviews with community members, local civil rights activists, and historians.
An advisory group of thirty individuals has been meeting with Museum staff monthly to play a key role in shaping the exhibition. We are excited to share this project, including a dynamic program series, with our community.
This exhibition is generously sponsored by Aflac.