Virtual Tour of The National WWII Museum
Register Now
This event is free for members and $5 for future members. Members add code MEMBER for discount. Memberships will be verified. Upon payment, a link for the event will be emailed. Want to become a member? Email sdesai@columbusmuseum.com.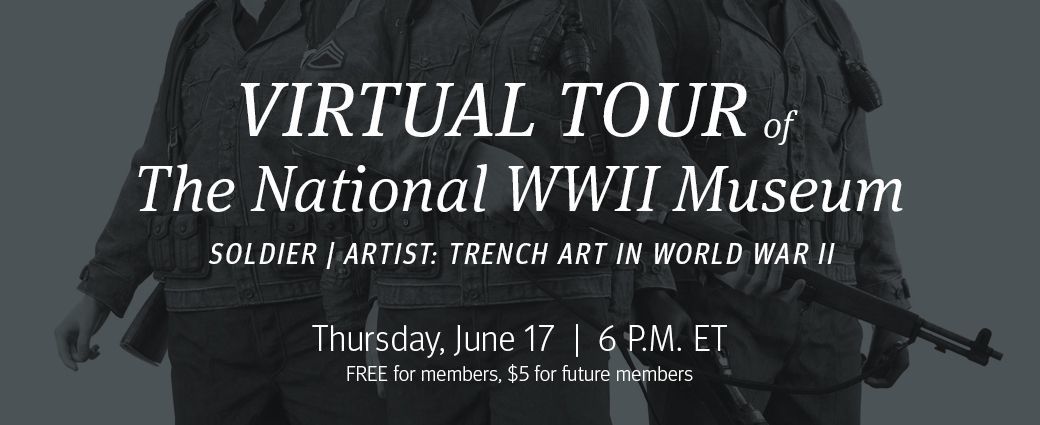 Join us on Zoom on June 17th at 6 PM ET as we take a virtual field trip to The National WWII Museum in New Orleans to explore one of the Museum's special exhibitions: SOLDIER | ARTIST: Trench Art in World War II. During this virtual tour, Tom Czekanski, curator of the special exhibition, will provide an overview of the Museum, share the history of trench art, highlight some of the exhibition's outstanding pieces, show historic photographs of the pieces themselves, and answer questions from the audience.
ABOUT THE EXHIBITION
The National WWII Museum's newest special exhibit, SOLDIER | ARTIST: Trench Art in World War II, takes an in-depth look at a military pastime known as "trench art": the creation of art, souvenirs, and tools out of discarded materials and the waste of war. Just as evaluating any other art form can reveal the life experience of its creator, the artifacts featured in this exhibit offer visitors a unique way to connect to the WWII veterans who made them—whether they did so out of boredom or necessity. Each piece reveals not just the artistic skills of its maker and the materials available to them, but also their circumstances and their thoughts and feelings at the time they crafted the items.
The exhibit will be on display from March 4 to January 2, 2022.
ABOUT THE PRESENTER
Joining us from the National WWII Museum is Tom Czekanski. Currently the Museum's senior curator and restorations manager, Tom began working at The National D-Day Museum in October 2000, shortly after it opened. He has held a number of positions over the past 20 years, supervising the growth of the collections as the Museum transformed into The National WWII Museum. A US Army veteran, he received a bachelor's degree from the University of Texas at San Antonio and a master's degree from Texas Tech University. Tom started his museum career at the Texas Transportation Museum in San Antonio.