Five Columbus Museum Objects Bey and Jay-Z Should Use for Their Next Video
We knew that artists Beyoncé and Jay-Z are museum lovers and collectors of art, but the filming of their new music video in the world's most famous museum has taken their status to new heights.
The Carters took over The Louvre in Paris, showcasing iconic painting and sculptures from the museum's collection.
Should Bey and Jay ever find themselves in Columbus, Ga., we have selected works from our own collection they should consider featuring. Best of all, unlike the price tag of filming in the Louvre — which we hear costs THOUSANDS of dollars — admission to The Columbus Museum is free!
In all seriousness, The Columbus Museum is ecstatic that celebrities like Beyonce and Jay Z are exposing art to diverse audiences around the world.
"It's great to see them affirming the importance of museums for understanding ourselves — and the world — a little better," said Jonathan Frederick Walz, Ph.D., Columbus Museum Director of Curatorial Affairs and Curator of American Art. "You don't have to be famous like the Carters to enjoy hanging out at a museum. Everyone is welcome!"
What's different about Alice is that she has the most incisive way of telling the truth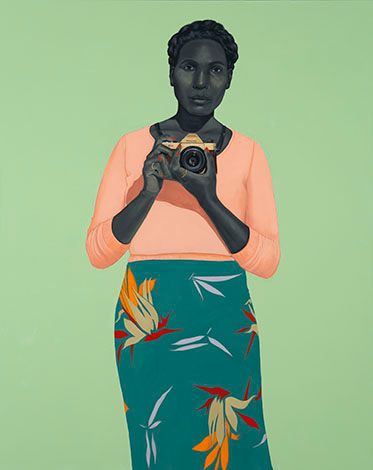 Any art lover would appreciate the bright, bold colors of Columbus native Amy Sherald's What's Different About Alice is that she has the most incisive way of telling the truth.  The work is characteristic of Sherald's style of creating monumental paintings of individuals she encounters, constructing new identities for them through the clothing and objects they wear, just like Beyoncé adopts different personas herself, Walz said.
Alice, the subject of the painting, appears to be a "fierce," independent woman, Walz said. It is a nod to both the artist Amy Sherald, who painted the official portrait of former First Lady Michelle Obama, and to Queen Bey herself, Walz added.
Air View of a Spring Nursery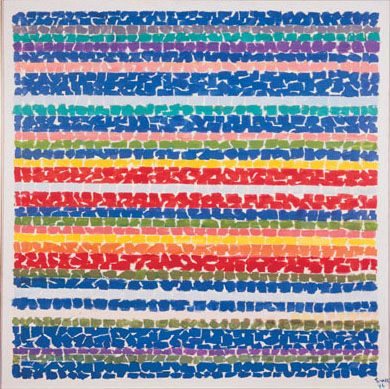 Air View of a Spring Nursery is an abstract painting that offers the artist's interpretation of what the colorful rows of plants in a nursery would look like from an airplane. From one #ROCKSTAR to another, Jay and Bey can admire the ground-breaking work of Alma Thomas, who was also born in Columbus. Thomas was the first African American woman to be granted a solo exhibition at the Whitney Museum of American Art. Her painting style is characterized by rhythmic mosaics of color.
"She broke barriers," Walz said of Thomas. "We know Beyoncé and Jay Z can relate to that."
All That's Left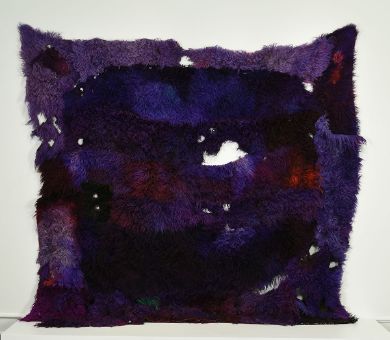 The power couple that routinely challenges preconceptions would probably connect to another artist that does the same, which leads us to our next pick. Anna Betbeze — also from Columbus! — uses fire, water, acids and colorful industrial-strength dyes to create large-scale abstract paintings on wool rugs. All That's Left is a wall hanging that displays vivid hues and a battered sculptural surface.
"Betbeze is an emerging artist whose style and medium is pushing the art world forward," Walz explained, "like Beyonce and Jay Z are pushing music forward."
Boat Installation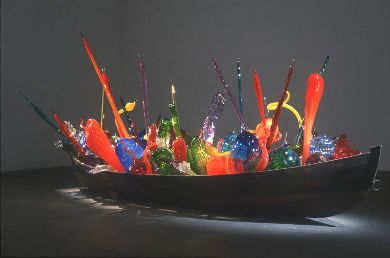 Beyoncé loves pretty, sparkly things and Dale Chihuly's Boat Installation certainly fits the bill. A native of Washington state, Chihuly is one of the world's foremost glass sculptors. After working in Venice, Italy in 1968, Chihuly introduced America to the European "team concept" of glass production, where a group of artists works together to create a single object.
"It's a showstopper, just like Beyonce!" Walz exclaimed.
Homecoming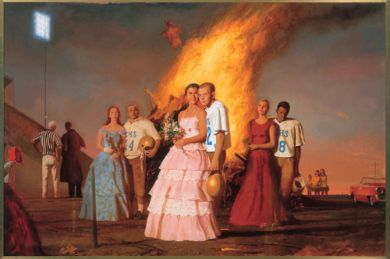 We had to sneak just one more work by a Columbus native into the mix, and Bo Barlett's work Homecoming is perfect. The artist has become well-known for producing images that contain veiled autobiographical material. This painting represents a bonfire before a homecoming football game between Columbus High School and local rival Jordan High School, reflecting a version of local history back to viewers, Walz explained.
"Plus, stuff is on fire," he added. "Don't Bey and Jay set the stage on fire, like, ALL THE TIME?"