Happy Juneteenth: 1877 Illustration Depicts Emancipation Celebration
The celebration of Juneteenth, or Freedom Day, is unique to the southern states as it celebrates the emancipation of enslaved African Americans. June 19, 1865 specifically commemorates the announcement of the abolition of slavery in the state of Texas.
The Columbus Museum's Collections team has unlocked the vault to show an amazing piece for the permanent collection. An  1877 illustration from Frank Leslie's Illustrated Newspaper shows an emancipation celebration held in Charleston, South Carolina.
"The illustration is a wonderful combination of the dual mission of The Museum of depicting regional art and history," explained Aimee Brooks, Museum Collections Manager. "It also shows a celebration in the Charleston, which is interesting because it's where the Civil War started."
In the illustration, African American soldiers are seen clearly with "U.S." military belt buckles. There is also an African American fireman in the center and at least one woman represented on the far right.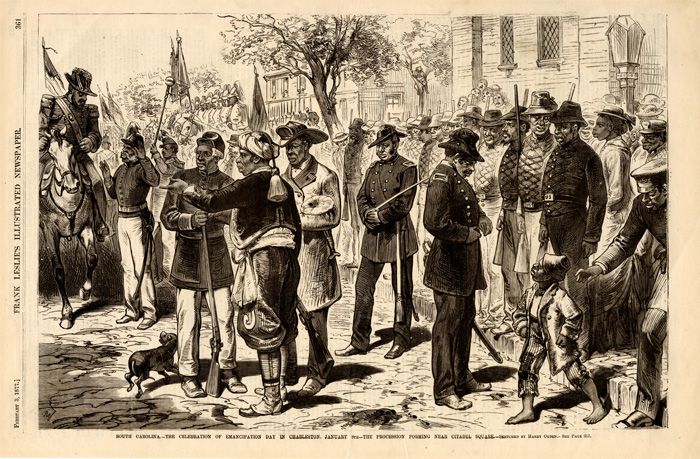 Gallery
Take a look at our other emancipation items from our collection below.
Bill of Sale for an enslaved woman named Ruby
William L. Tillman
1861
ink on paper
Museum purchase

A Southern "Deserted Village", near Columbus, Ga.
The White Company, Paul C. Koeber Company
1908 ca.
commercially printed paper
The Evelyn S. and H. Wayne Patterson Fund

Emancipation Proclamation 31st Anniversary Celebration Ad
Thomas Gilbert, Chattahoochee Valley Emancipation Proclamation Association
1894
newsprint
Gift of F. Clason Kyle

Rachel Gould's Freedom Paper
John R. Wootan
1829
ink and paper
Museum purchase
The History of Juneteenth
Did you know the Texas was the first state to declare Juneteenth a holiday on January 1,198o, then other states followed.Learn more about the history of Juneteenth and how its celebrated today from the video below.