Permission, Reminders, Inquiries: Celebrating National Poetry Month
By Ben French, Curatorial Assistant
April marks National Poetry Month, a celebration of the written word's ability to transport, illuminate, and dream into existence. My own entry into the world of the visual arts occurred somewhere during my studies in poetry. So I suppose you could say that the written word ushered me into the world of oil paint, clay, light sensitive paper…
What I liked about these two forms was their versatility as modes of expression. How you could be as exacting and straightforward as you want, or as oblique, as lyrical, as dreamlike. Poetry and art gave me new languages through which I could express myself when regular ole communication didn't work. How could a color create a tone like a vocal inflection colors language? How could I say the exact same thing in a sculpture versus a dance, yet have the way they were received be completely different? How could I rearrange words on a page and have that action carry just as much meaning as what I was saying? And what did it mean for me to be drawn to these forms in the first place, for my attention and my body to turn towards them with a curiosity that felt encouraged and reciprocated, somehow familiar?
Poetry and the visual arts are the arts of asking questions, of instigating processes of searching for solutions. A poetry professor of mine once said, "I'm okay with being an answer and a question at the same time." I was welcomed into an amorphous space hearing that, one whose environment was always shifting, one that encouraged me to mimic and adopt and find home in its constant shifting. Which is to say that poetry and art gave me permission to be human. To not simply be an artist (which privileges identity or the ego), but to live creatively (emphasizing the act of living life as its own art process). Or if not permission, then reminders of possibility. Which is a pretty nice gift, right?
So to celebrate this allowance, this reminder, here are some objects from the Museum's collection and some poems to go along with them. Happy National Poetry Month.
---
In these works, artist Dawn Black and poet D.A. Powell explore the body's ability to communicate through the art of tattoo. Both Black's painting and Powell's poem employ a sense of stillness to convey the power inherent in this communication. The painting here captures highlight's its subject's tattoos in a solemn, stoic form while Powell's poem uses four-letter lines to mirror a lyricism found in the tattoos one might observe on another's knuckles.
Tatt That
by D.A. Powell
kiss
upon
kiss
they
grow
into
this
they
wish
your
shad
roes
hand
sock
hard
rock
cold
toes
will
blow
warm
will
blow
cold
they
just
raid
your
hash
then
like
meat
bees
with
your
cash
they
give
they
take
form
like
your
fist
over
love
---
Jarrett Key and Eve Ewing are two artists leading the contemporary arts and poetry scenes in America. Key utilizes the powerful history of hair in this series of paintings in which the artist forms a paintbrush with their hair and uses a combination of song and dance to perform the painting's creation. Meanwhile, Ewing's poem calls into question a racial bias in critics' and viewers' perception of abstract works made by artists of color, rightfully arguing that these works can be made in response to abstract and conceptual works made by white artists like Dan Flavin and deserve equitable attention in discourse in their own right. Together these two pieces illustrate the importance of both claiming and recognizing the artful contributions of artists of color to art movements.
to the guest critic in my studio art course who said my work looked like graffiti
by Eve Ewing
but that's not this drawing, you feel me— ?
actually this is a reproduced rendering from a Dan Flavin installation study
"sixteen 'monuments' for V. Tatlin," 1967.
an index of my misspent youth
leaving school and taking the 82 to the brown line to the red line
to the Water Tower and walking to the MCA and watching
the fluorescent tubes in the dark rooms,
leaning against the wall like a dare,
like going to get a drink of water
and finding yourself in the stairwell with an older boy.
all the gum poppin i've done, all the feckless scrutiny
in the Tate, the Pompidou, the Prado, the MoMA,
15 at the Whitney Biennial,
10 snatching up expensive crackers off the table at a gallery in River North.
i mean yeah
we can talk pitchfork. we can talk permission wall.
we can talk freight car. i mean you wanna talk we can talk.
i speak wheatpaste.
and I speak your thing too. i speak white wall. i speak placard.
so what i'm saying is
that's not this drawing you feel me
but i speak two pens
so holler at me whenever lady, if you got a question or something
---
Both Jeffrey Gibson and Layli Long Soldier draw upon pattern and Indigeneity in these two works. Gibson employs the triangle found in both Indigenous patternmaking and op art to draw our eye in many directions across the surface of the canvas here. Similarly, Long Soldier uses the same shape and allows us to read this poem in multiple directions to better understand the various ways we interact with the past, present, and future. Try reading it from left to write, reading just the words at the beginnings or ends of a line, or creating your own maze through its words.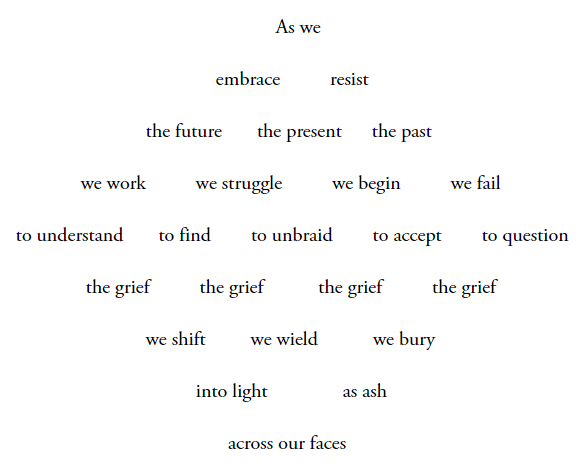 Obligations 2 - Layli Long Soldier
---
Sally Mann's photography and Coco Wilder's poetry find a great deal of lyrical strength in the power of memory. Mann is best known for photographing her children throughout their early lives, chronicling intimate moments that highlight the fleeting nature of childhood. Wilder's poem here captures the inner feelings of a persona deeply caught in a moment of looking toward the future, just as Mann's subjects remain perpetually unsure of their own.
I don't want to reminisce, I want to burn
by Coco Wilder
the road birds shout
away, away! enough.
gosh.
I whisper to myself gosh,
body terrific, stay alive
you luck-stoned
fool.
any way you unwrap it
when I become a better woman
it will be easy
to sing over the fire,
even the horses are on my team
even the horses are on my team
even the horses are on my team.
---
The poetry of Gabrielle Calvocoressi often manages to travel between the earthly and the cosmological, jumping from a paint chip to a night sky not unlike the one found in Mia Pastore Rosenthal's drawing. Rosenthal's work draws us in with delight as we think perhaps this is a scanned image, only to realize it is actually a remarkable drawing of ink on paper. In both works here, a sense of wonder and amazement is created through common materials in order to draw us deeper into the works.  
[The paint chipped away]
by Gabrielle Calvocoressi
The paint chipped away on the wall looked like the bull
                              that we found in the sky: little bull's legs
with the big head and a pile of stars in his neck.
                              Near the Queen's Suite
that rises in Autumn.
                              Pegasus, Andromeda, and The Great
Square. (what we called my father
                              when we got old enough,
before we didn't talk anymore)
                              Imagine having a pile of stars in your neck,
a bull made of stars.
                              I liked it best when we'd lie there
and look out the window.
                              run my hand through the air and say,
There to there
                              to there. It doesn't really make sense

unless you know what you're looking for.

                              You know?
Little bull in the sky on the wall with its hickey of stars.
                              Someone sucked the light right
                              to the surface.
Let me show you, I'd say.

                              Let me show where we are.