The Columbus Museum Wins Major History Award
Making Conversation with Warren Williams Homes project wins 2020 Award of Excellence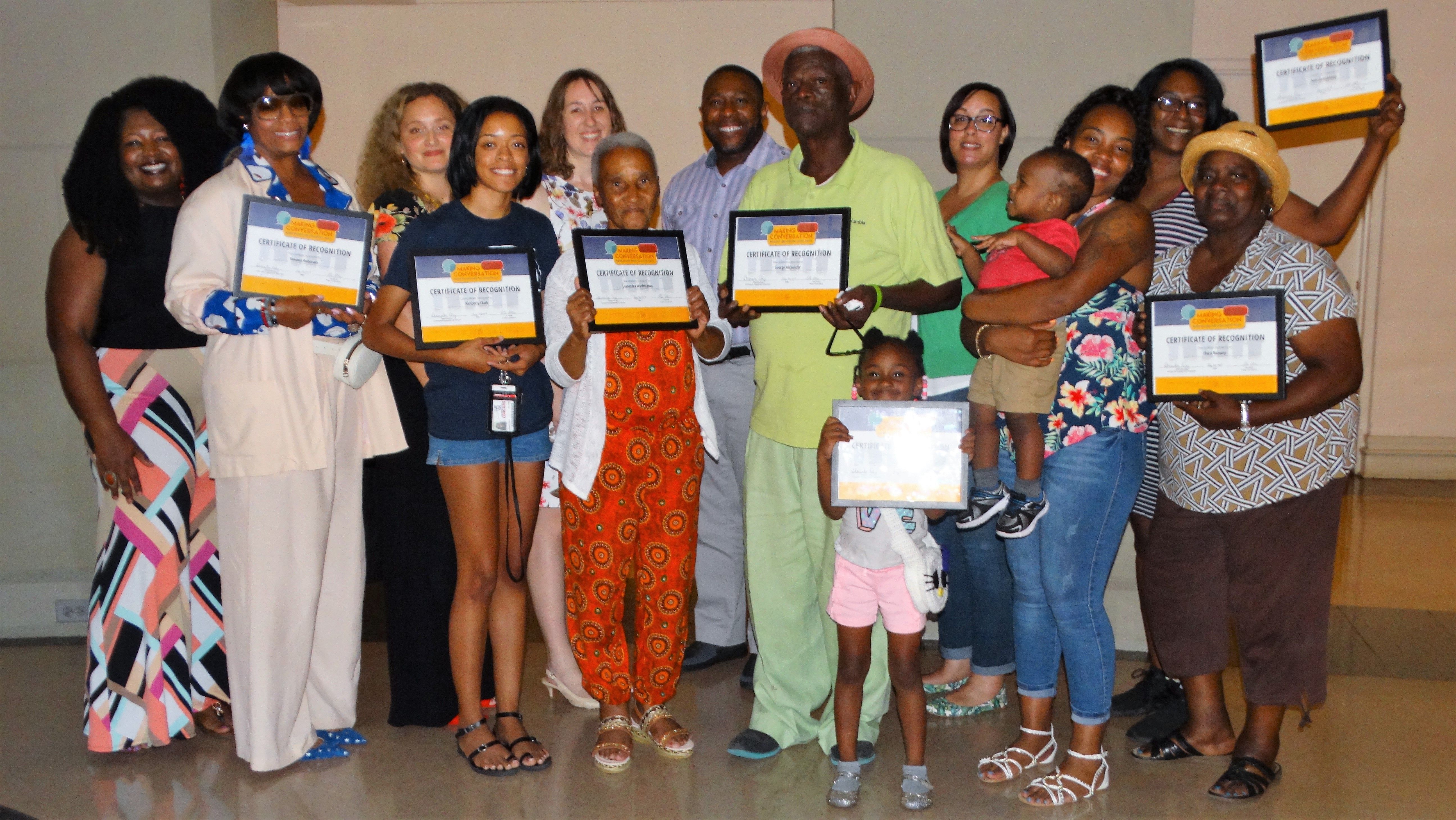 Columbus, GA. -- The Columbus Museum has received a prestigious award from the American Association for State and Local History (AASLH) for work on the oral history project Making Conversation with Warren Williams Homes. 
AALSH awards recognize "the most inspiring, engaging, and thought-provoking work in our field," according to a statement from the organization announcing the winners of the 75th Annual Leadership in History Awards.  The 2020 Award of Excellence is the most prestigious recognition for achievement in the preservation and interpretation of state and local history. 
Making Conversation was a four-phase, 18-month project that included oral history interviews conducted by volunteers, resident dinners with brief historical programs, collaborative art-making activities for children and teens, and an exhibition at the Museum from December 2018 through May 2019. The culmination of the project was the installation of a sculpture of the same name in the Warren Williams community. Making Conversation was led by Rebecca Bush, Curator of History and Exhibitions Manager at The Columbus Museum. 
A 'wonderful collaboration' 
"Making Conversation with Warren Williams Homes was a wonderful collaboration between the Museum's project team, the Housing Authority of Columbus, Georgia, and the residents, whose participation and input made the project possible," said Marianne Richter, Director of The Columbus Museum.  "Curator of History Rebecca Bush had the original idea for the project, and her leadership and expertise as a public historian were integral to the project's success." 
The Making Conversation team included Bush, project coordinator Lila Stone Newberry, community engagement consultant Sherricka Day, and community outreach coordinator Kennan Ducey. The team met with Warren Williams residents to gather stories, impressions, and pictures of growing up in the homes or in similar neighborhoods. Residents were also encouraged to investigate their own history through genealogy resources and desktop computers provided by the project. Making Conversation was funded the Knight Foundation Fund of the Community Foundation of the Chattahoochee Valley and the National Endowment for the Arts. 
Project driven by resident enthusiasm 
As a result of the project, the Museum's Education department has continued a partnership with the Housing Authority, providing art classes at housing local communities and distributing activity kits during the pandemic when workshops could no longer be held onsite. 
This is the second time in a decade that the Museum has received this award, Bush noted, which shows the Museum's continued commitment to serving the community through exhibitions and programming. But she emphasized that it was the residents' participation in Making Conversation that made it all possible.  
"This was truly a resident-created project, from talking about their own lives in oral history interviews, to sharing images and objects for the exhibit, to creating the sculpture through their words and design choices while collaborating directly with the artist," she said. "The project's success wouldn't have happened without the Warren Williams community's enthusiasm for celebrating their neighborhood and sharing their stories." 
-- 30 -- 
MEDIA CONTACT 
Bridgette Russell, Director of Marketing & Public Relations 
Brussell@columbusmuseum.com 
706.748.2562 ext. 5410