And So She Did: Women of the Chattahoochee Valley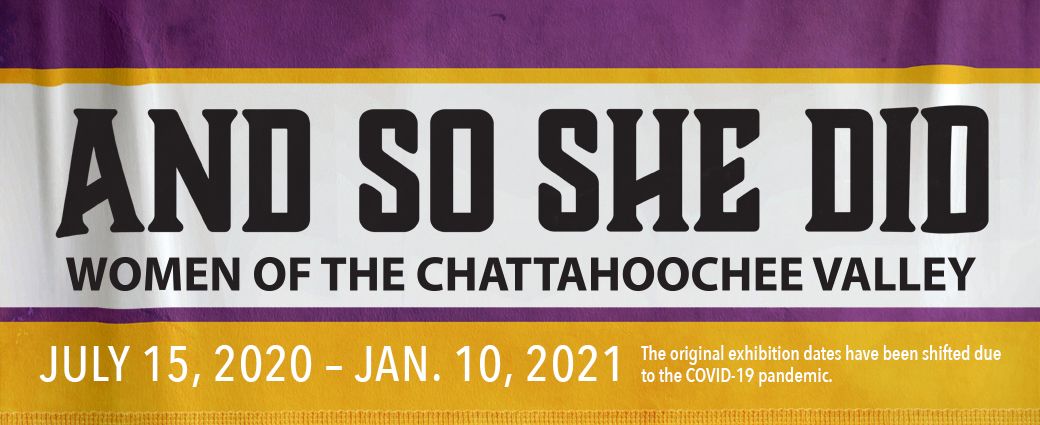 JULY 15 - JANUARY 10, 2021
Nordhausen and Callaway Galleries
American women gained the right to vote in August 1920 with the ratification of the 19th Amendment. And So She Did: Women of the Chattahoochee Valley commemorates this landmark moment in conjunction with centennial celebrations across the country. The exhibition spotlights the Columbus origins of Georgia's woman suffrage movement and Chattahoochee Valley connections to national conversations, including H. Augusta Howard and Adella Hunt Logan. Images and archival documents will explore other forms of women's political power and social activism into the 21st century. Advancements in women's rights and significant firsts in women's history in a variety of settings, including the Civil Rights Movement, education, military and law enforcement, and arts and culture will also be featured. Stories of trailblazing women will be told through their own clothing, personal objects, and words. And So She Did highlights several recent acquisitions to The Columbus Museum's permanent collection, as well as pieces shared by regional lenders.
Women of Kowaliga School in East Alabama, ca. 1914, Museum purchase G.1989.11.22.15

Ina Ruth Wallace Earley, first city of Columbus policewoman, ca. 1971, Gift of Vanessa Moss G.2006.80.3

Dress worn by H. Augusta Howard at National American Woman Suffrage Association meeting, 1985, gift of the Columbus State University Archives G.2014.33.1
This exhibition is generously sponsored by Aflac and is also supported by Georgia Humanities, in partnership with the Georgia Department of Economic Development, through funding from the Georgia General Assembly.