ANDREA DEZSö: From the Murky Banks of The Chattahoochee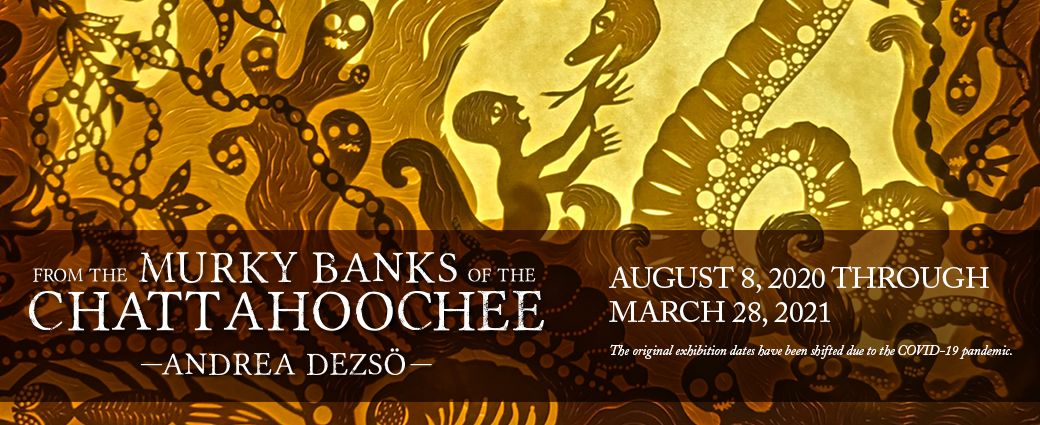 August 8 - March 28, 2021
Galleria
The Columbus Museum has commissioned internationally renowned artist Andrea Dezsö to create a project in response to Columbus and its environs. Dezsö will fill the Galleria cases and nearby spaces with life-size "tunnel books." Familiar from publications for children, tunnel books are three-dimensional tableaux, created from layers of paper that are hand-drawn, cut out, and painted. Different layers are stacked one atop another—like theater flats—and held together by a collapsible framework. In Dezsö's hands, individualized lighting designs augment the work's otherworldly qualities. Artist-directed vantage points, such as keyholes or cracks, invite visitors to engage in an active manner with the installation.
Born in Transylvania, Romania, Andrea Dezsö received a BFA in Graphic Design & Typography and an MFA in Visual Communication from the Hungarian University of Design in Budapest. She moved to New York in 1997 and has taught at Parsons The New School for Design and Hampshire College. Dezsö's illustrations have appeared in The New York Times, Harper's Magazine, Time Magazine, and Newsweek. Community Garden, a large-scale public mosaic for the Bedford Park Boulevard subway station in New York was awarded Best American Public Art in 2007. Dezsö currently lives with her partner (and studio manager) Adam Gurvitch in Amherst, Massachusetts.
This exhibition is generously sponsored by Aflac.