Museum Alive! Celebrating the Bradley Olmsted Garden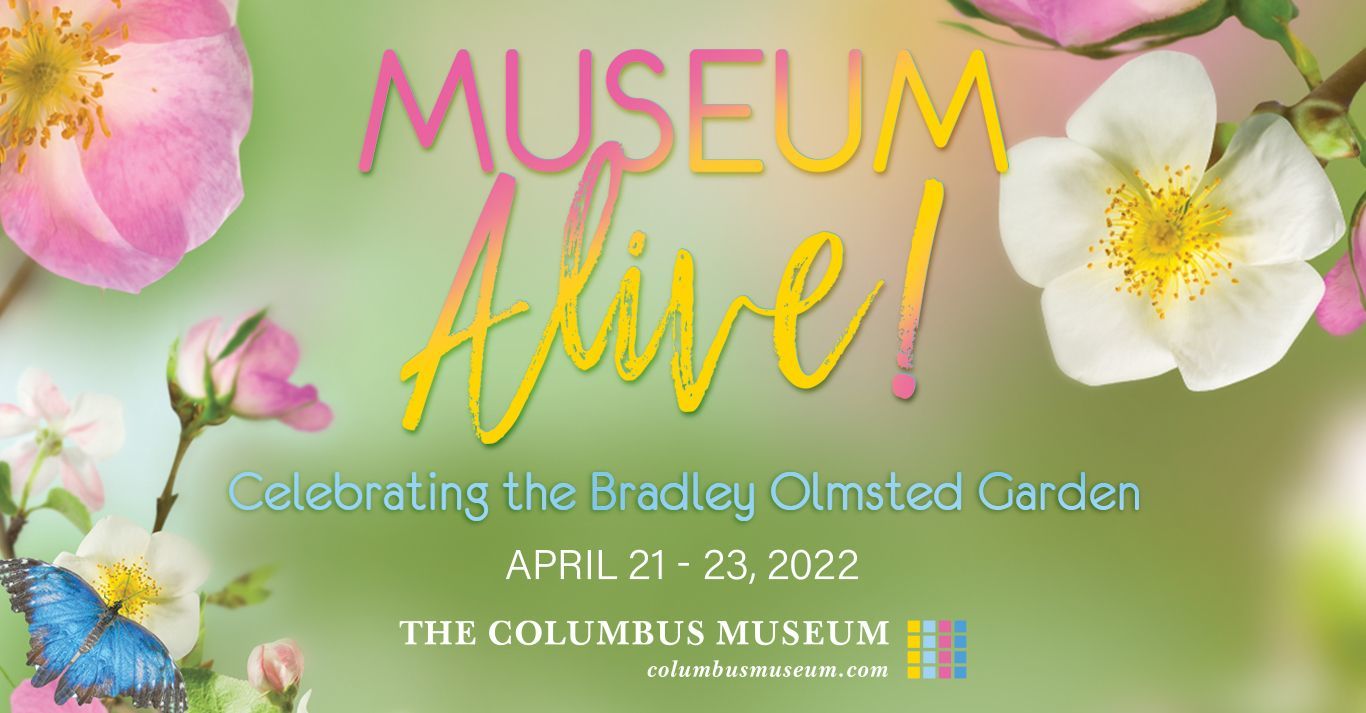 Join The Columbus Museum as we kick off our inaugural Museum Alive! fundraiser to celebrate the history of our Bradley Olmsted Garden! We're inviting all of our supporters and members of the community to partake in the three-day festivities to experience unique installations of art and flowers, to try your hand at floral arranging, and to raise a toast to the continued success of The Columbus Museum.
THIS TICKET INCLUDES ENTRANCE TO ALL THREE (3) MUSEUM ALIVE! FUNDRAISER EVENTS. $200 PER PERSON
Bloom Bash
Thursday, April 21 at 6 P.M.
Delight in cocktails, hors d'oeuvres, and entertainment as you tour astonishing floral sculptures created and inspired by works in the Museum's permanent collection. The sculptures will be created by talented, local floral designers, artists, and enthusiasts. All guests will have the opportunity to vote for their favorite bloom display and the winner will be announced during the party.
Floral Arranging Classes
Friday, April 22 at 11 A.M. and 2 P.M.
Explore the fundamentals of floral arranging in this interactive, outdoor class. The classes will be led by noted floral specialist Canaan Marshall. Aside from his recent appearance as a contestant on Season 2 of HBO Max's Full Bloom, his work can be found in the pages of Southern Living, Modern Luxury, Flower Magazine, Traditional Home, and Macon Magazine.
Garden Fest
Saturday, April 23 at 12 P.M.
Enjoy an afternoon in the Museum's Bradley Olmsted Garden picnicking with live music, craft beer tasting, lawn games, and art activities provided for all ages.
**Child tickets available for $5. Children 5 and under are FREE. Purchase child tickets to this event by following the link below.**
Buy your Museum Alive! raffle tickets for your chance to win one of TWO prizes! The primary raffle winner will receive a painting by famed American artist, Bruno Zupan. The secondary raffle winner will receive a pair of Reebok x Eames – Club C 'Composition' shoes based on the painting "Composition" by Ray Eames in The Columbus Museum's permanent collection. Raffle tickets are $100. The winner will be drawn at 7:30 PM on Thursday, April 21 at Bloom Bash. Winners need not be present to win.